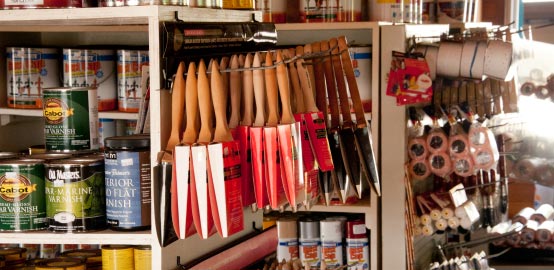 Get Creative:
Caribbean Woods carries Harris Paints and offers/mixes thousands of colors. We also offer cross referencing and paint matching for almost any paint manufacturer in the world. Ask for Pearlette, our experienced and trained paint consultant!
We've Got Options:
As well, we carry a wide choice of American brands of varnishes, floor finishes, polyurethanes, stains, oils, decking oils, waxes, marine paints, paint removers, solvents, brushes, rollers, painting accessories, sand papers, wood fillers, caulks, painter's putty, putty knives, wood glues and more.
Paints We Carry:
3M, Absolute, Allway, Ao Safety, Bondo, Cabot, Dap, Famwood, Franklin, Gardner Gibson, Hammerite, Hyde, Mccloskey, Merit Pro, Minwax, Norton, Old Masters, Ospho, Penofin, Reeves, Red Devil, Rocktite, Rustoleum, Thompsons, Ugl, Usa, Watco, Wooster, Zinsser, Z-Pro.